Sprinkle Cake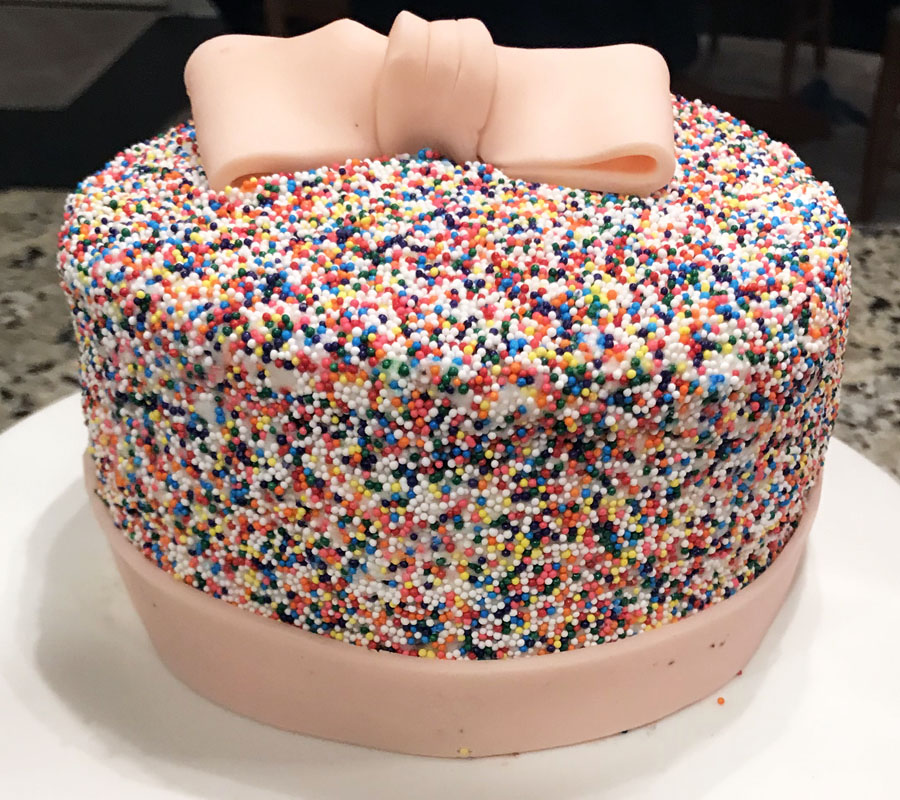 This is such a fun and beautiful cake to make. It will definitely WOW everyone who sees it!
I loved this cake, but it was more on the difficult side to make. I've seen hundreds of sprinkle cakes very similar to this one, and thought I could nail it.
Surprisingly, this cake does not require as many sprinkles as you'd think. I only used about 7 ounces for this cake. So now I have 3 more containers of sprinkles, I thought I would use, sitting in my pantry. The fondant bow and wrap on the bottom is just a cute detail I saw on Pinterest. I used frosting as glue to make the fondant stay in place. Pinterest is one of my main, sources to finding cute and creative foods! I visit daily.
To put the sprinkles on, I used my rotating cake/frosting table that was above a wooden cutting board with a rim to catch the sprinkles. I made the mistake of not drying the cutting board before having the sprinkles fall, but it wasn't a huge issue, I just couldn't reuse most of the fallen sprinkles. Putting all the sprinkles on took about 20- 25 minutes to perfect them. An easy way to did this is to pour some sprinkles on the top and lightly push them down just enough so they will stay. When the top was just about filled, I started pouring them into my hand to fill up the side while spinning my table. Of course you can go back to fill in any spaces you may have missed.
I loved making this cake and how it turned out! I hope you will also!
.
.
.
I will post a recipe for this super moist chocolate cake and delicious buttercream frosting soon. Subscribe below to know when it's up!!
---
---