Chocolate Peppermint Meringue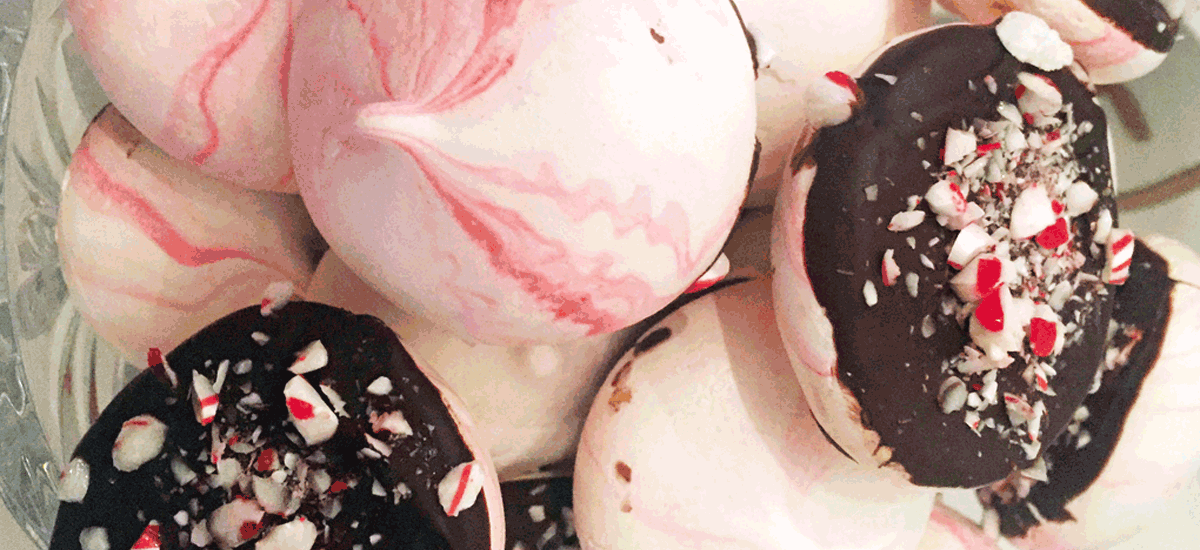 Mouth watering meringues that will have your friends amazed!!
Chocolate Peppermint Meringues
2018-02-13 21:38:00
Ingredients
4 large egg whites, room temperature
1 teaspoon cream of tarter
A pinch of salt
1 cup granulated sugar
2 teaspoons vanilla extract (or other extract for flavoring)
Pink food coloring (OPTIONAL)
8 oz Milk chocolate
1/2 cup crushed peppermint
Instructions
Preheat your oven to 225 degrees F
In a mixing bowl, set with a whisk attachment, on low mix the egg whites cream of tarter, and salt. Make sure your bowl is completely clean with no oils or other liquids that will mess up the meringue.
When foam starts to appear in egg mixture, add sugar tablespoon by tablespoon so the consistency stays light and fluffy (20 second intervals). Mix on high
Beat until mixture is shiny and has stiff peaks. At this point sugar should be dissolved, test by rubbing meringue between two fingers. If meringue feels gritty keep mixing but DO NOT OVER MIX.
Now you can take your bowl and with a spatula gently fold in your choice of an extract.
Next, take a piping bag fitting with a tip. I used a medium round tip (Wilton 1A), any will do.
For the streaks in the meringue I took a tooth pick, dipped it in pink food coloring and dragged it though the bag bottom to top. OPTIONAL
After this step, fill the piping bag with meringue pipe 2 inch circles on a baking pan with parchment paper.
Bake at 225F for just over 1 hour (about 63-66 minutes). Meringues should easily be able to be taken off of the pan.
While meringue are cooling for 10-15 minutes, melt chocolate and crush peppermint.
Take each meringue and dip the bottom into chocolate (about a 1/2 centimeter) and sprinkle a little bit of peppermint on chocolate, just enough so its not too much peppermint flavor.
Let chocolate harden, 10-15 minutes, or place in the fridge
Serve meringues in a beautiful bowl and enjoy!
Adapted from https://sugarspunrun.com/meringue-cookie-recipe/
Adapted from https://sugarspunrun.com/meringue-cookie-recipe/
http://foodandsugar.com/
---
---