Strawberry Butter Cream Macaroons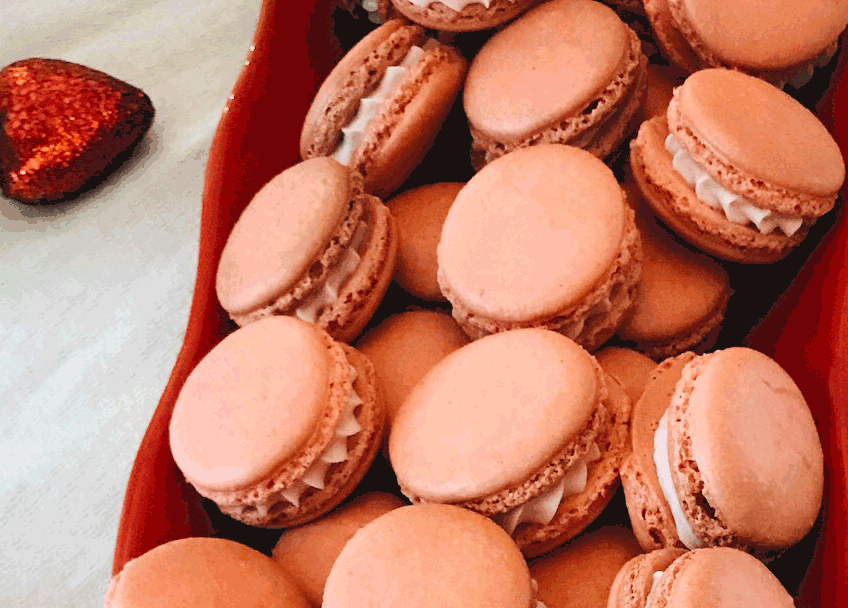 French Macarons that will have your friends amazed!
Strawberry Butter Cream French Macaroons
2018-02-13 20:48:40
Cookie
1 3/4 cups confectioners sugar
1 cup almond flour
3 egg whites, room temperature
1/2 teaspoon cream of tater
1/4 cup granulated sugar
1 teaspoon vanilla extract (or another extract for flavor)
pink food coloring (optional)
Filling
1 1/2 Teaspoon Vanilla Extract
1 1/4 cups confectioners sugar
1/4 cup of soft butter
4 Tablespoons Strawberry Jam
1 Tablespoon whipping cream (more or less for right consistency)
Instructions
Cookie
In a large bowl, sift the confectioners sugar, salt, and flour. Once this is mixed together, take a sifter and pour in these ingredients 2 to 3 times, then pour back into the bowl.
In an electric mixer with a whisk attachment or handheld mixer, beat the 3 egg whites. Start on a low speed
Once the eggs are becoming foamy, add in the cream of tarter and salt.
Once combined, add in the sugar, tablespoon by tablespoon with 15-20 second intervals so the consistency doesn't break. The mixer is on a high speeding during this step.
With the mixer now turned to a medium-low, add the vanilla and food coloring just so it is blend. DO NOT OVER MIX!
When the egg mixture is fluffy and has shiny, stiff peaks, start gently folding that into the dry ingredients.
Once the egg and dry ingredients are combined, put it into a big piping bag with a round tip. I use an A1.
Pipe macarons onto a pan fitted with parchment paper, using my French macaron template linked below.
Once they are piped, tap the the macarons onto a counter top 3-4 times to release any air bubbles. Let them sit out for 20-60 minutes before baking to let the macarons form a shell.
Bake at 300 degrees Fahrenheit for 14 minutes or until the macarons are easy to take off the pan.
Filling
Blend the butter, cream and half of the sugar using an electric mixer. Add in jam and vanilla extract. Add the rest of the sugar until well blended and fluffy.
Use any piping tip you want to fill your macarons. I used a Wilton 1A.
Enjoy!!
Notes
Make sure the sifter is completely dry and gets no liquid in it. If this happens, the sifter will get jammed and break, and you will not be able to use it.
If the egg whites are not at room temperature, an easy way to warm them, is by putting them in a bowl of warm water. This will warm them very quickly but don't leave them in too long if water is too hot.
http://foodandsugar.com/
---
---