Coffee Bean Cookies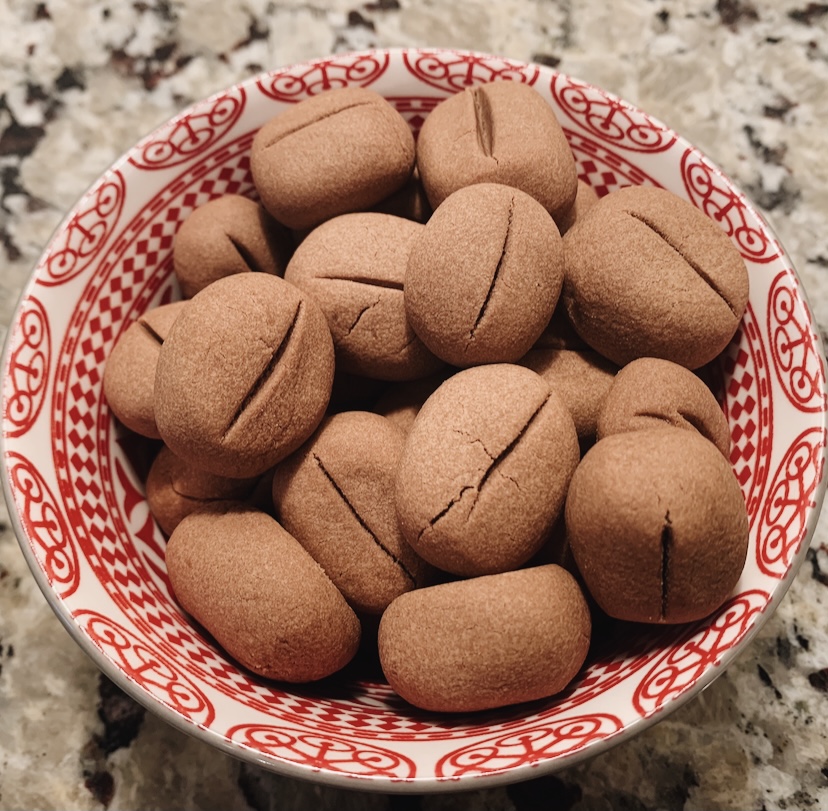 Espresso Bean Cookies
I found this recipe scrolling on Pinterest. I knew I had to make them, as I LOVE coffee. They were so easy to make and surprisingly delishous! My family loved them and we can not stop popping them in our mouths. Let me know If you decide to try them and what you think!!
Ingredients
2

tsp

milk

1

tbsp

instant coffee

1

cup

cake flour

2

tbsp

cocoa powder

3

tbsp

corn starch

1/3

cup

butter

softened

1

egg yolk

7

tbsp

sugar
Instructions
Heat the milk in the microwave for 20 seconds. Whisk the instant coffee only until dissolved. Do not over mix!

In a seperate bowl, combine the flour, corn starch, and cocoa powder, and set aside.

With a standered mixer set with a whisk attachment, mix softened butter just until creamy. Add in powerderd sugar until combined. Lastly, add in the egg yolk until the color changes to a pale yellow.

To the egg mixture, pour in the coffee and mix until completely blended.

Now add in the flour mixture that you set aside into the egg/coffee mixture in thirds. Add a third and wait until the mixture becomes crumbly, once combined add more, then repeat. Mix until a dough forms.

After the dough has formed, make the bean shapes. Take a third of the dough and roll in a log shape of about 1/2 inch thick. Now cut them into 1/2 inch squares.

Once you have you have all the sqaures, roll them into ovals. Once this is complete, cut a small slit on the top just to make the line. Make sure to not go all the way through.

Put the cookies on a sheet tray lined with parchment paper in the fridge to keep them from losing their shape for 30 minutes to 1 hour.

Set the oven to 325º. Bake for 12 minutes. Serve with coffee or tea.
---
---