Popovers!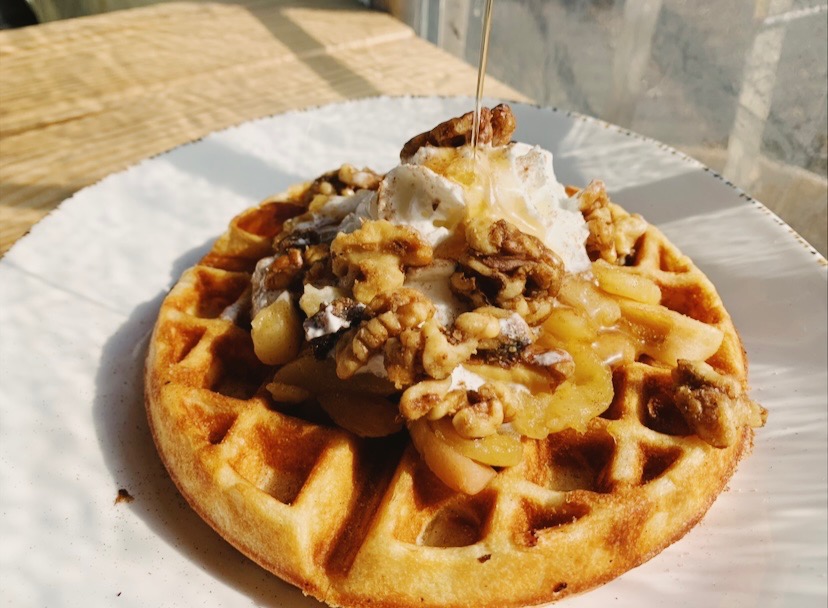 Welcome to the first post in my new series, the Breakfast Buzz. Here I will go out for breakfast and then I inform you of my favorite dishes. At this time during Covid-19, with so many restaurants struggling to stay afloat, I only want to support and not provide any negative feedback. From coffee to pastries, to a heavenly plate of french toast, I'll try it all. Keep reading to find out where I dined first!
Popover Bistro and Bakery was my first stop with my friend Kerry on Friday morning. To set the scene, we sat in a large tent with picnic tables, socially distanced of course. The table was topped with a bucket of cutlery, cups, and hand sanitizer. You can sit inside as well, but it was a beautiful day, so we decided to stay outside. The inside is decorated with benches and chalkboard-menus. There are unique drinks such as a lavender London Fog, which I have heard much about from Margot Lee's platform. It is simply a cup of tea with hot frothed milk on top. I did not get around to trying it this time, but I definitely will as the season gets cooler.
My friend and I had a hard time deciding from the large selection of eggs, breakfast bowls, and waffles, so we landed on two meals and share. The apple pie waffles are a must. Topped with caramelized apples and candied walnuts, they are the most fluffy and delicious waffles you will ever have. We then split the West Coaster sandwich, which was goat cheese, avocado, tomato, and a fried egg on toasted sourdough bread. The goat cheese turned this classic breakfast sandwich into something amazing. Next time I go, I will get this on either a brioche bun or a homemade popover. All of their sandwiches can be made on their signature popover roll.
I recommend this place if you want a classic breakfast with a twist. Popovers is located at 928 Hopmeadow Street, Simsbury Connecticut. Try it on a crisp fall morning.
---
---